Transporting goods to Flanders Expo
Delivery of goods on behalf of exhibitors is possible from Thursday before the start of the fair. Address:
Flanders Expo
attn. Fiets en Wandelbeurs
name exhibitor, contact person and telephone number
Hall en stand number exhibitor
Maaltekouter 1
B-9051 Gent
Belgium
Access
Please report to the gate and show your participants pass or construction pass. The security guard will give you access for loading or unloading. All diesel-engined vehicles must be fitted with a soot filter.
No vehicles will be admitted to the hall on Friday, the hall doors are closed. On that day you will have to transport your goods with a trolley or hand truck.
Delivery of goods before the fair
Do you want to deliver goods before Thursday, please contact:
Schenker NV Fairs & Exhibitions
Vliegveld 756
1820 Steenokkerzeel / Brussels Airport
Belgium
Tel: +32 2.716.37.86
Fax: +32 2 716 38 50

www.dbschenker.com/be
Parking
During the construction days on Thursday and Friday, you have to remove your car after unloading from the site to give other exhibitors the opportunity to unload their material.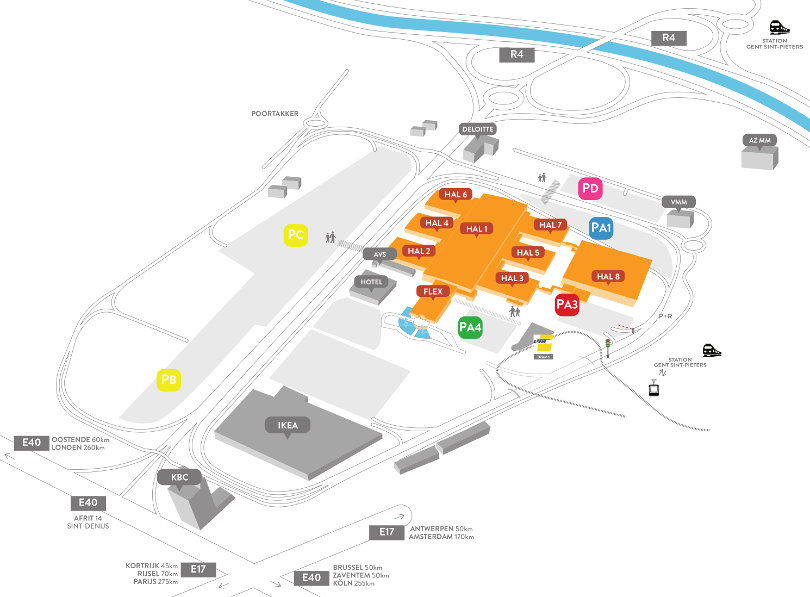 Low-emission zone
To improve air quality, Ghent's city center is a low-emission zone (LEZ). The most polluting vehicles may not enter the zone. Flanders Expo lays outside this zone. If you want to go to the city center after your visit to Flanders Expo, keep that in mind. More information: Stad.gent.