Construction and dismantling in the Jaarbeurs
Construction
Building your own stand
You can start with construction and fitting out your stand on Wednesday from 12:00 hrs to 23:00 hrs
On Thursday from 08:00 hrs to 23:00 hrs.
Standard stand construction
You can start with fitting out your stand on Thursday before the fair from 12:00 hrs.
General
On Friday you are welcome from 8:00 to 9:30 to finish building your stand.
Soot filters are mandatory for diesel engined vehicles.
Smoking is strictly prohibited in the halls.
The organization room is open from 8 a.m. to 5 p.m
During construction and disassembly you are obliged to wear safety clothing (helmet, safety shoes and reflective vest)
Do you use a forklift? A forklift truck levy must then be requested from DB Schenker
On Friday, Saturday and Sunday you will have access to your stand from 08:00.
Access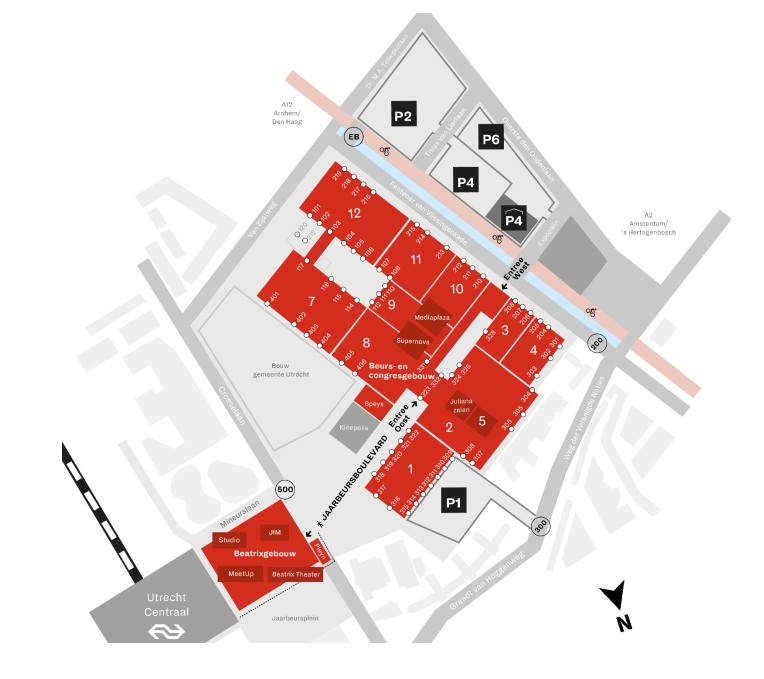 P1 and P3 are not available for parking due to works.
Parking
Access during assembly and disassembly
You must register at least 48 hours in advance in DB Schenker's Vehicle Registration System (VRS) to book a time slot. You will then receive a vehicle access pass. It is no longer possible to enter the loading and unloading zones of Jaarbeurs without a time slot!

You or your stand builder should report to the external buffer location, the KWS site, with a participant card or construction card. Navigation address: Groenewoudsedijk 10, 3528 BG Utrecht. Take Route EB or follow the route instructions from the traffic controller. Upon arrival, take an entry card and take into account the associated loading and unloading minutes.

For Hall 2 you can use the entrance gate 304, for Hall 3 that is door 207 and for Hall 4 doors 205 and 303.

After loading and unloading, you can park the vehicle (paid) at:
vehicles under 2.70 m on P2 and P4
vehicles over 2.70 m on P2
It is prohibited to park the vehicle on the loading and unloading area after unloading. Disconnected trailers may also not be left behind on the Jaarbeurs grounds.

On Thursday you can no longer drive into the hall with a car, the hall doors are closed. Transport your (heavy) goods on this day using, for example, a trolley or hand truck.
Parking on exhibition days
Unfortunately, parking tickets cannot currently be ordered via the webshop. For more information: or Jaarbeurs.nl.
Hours
Only if necessary you can enter the Halls by car until Wednesday 18:00 hrs. Then the doors close. After this time delivery of goods is only possible through one entrance.
On Friday, Saturday and Sunday, the entrance of one Hall is open from 8:00 to 10:00 hrs.
Access for stand builders
Stand building tickets are necessary for employees and stand builders that are present only during construction and / or dismantling.
Valid:
Wednesday and Thursday before the fair, the whole day.
Sunday after the fair from 3 pm.
You can download stand building tickets from 'My events'.
Dismantling
Taking down the stand starts on Sunday at 15:00 hrs after the closing of the Fair. Please do not start the clearing of the stand any earlier. The electricity will be cut off at 15:00 hrs sharp and the Hall doors will be opened after the removal of the carpet at ca. 15:30.
Stand holders with standard stand construction
The stand must be cleared by 21:00 hrs on Sunday.
Stand holders constructing their own stand
The hall must be ready for handing over empty on Monday morning at 00:00 hrs (night). If you have not started by 21:00 hrs, our own stand builder will do it and you will be charged the costs.
Access during disassembly
The reservation of a time slot via DB Schenker is also necessary for the disassembly. You can then report to the buffer zone KWS terrain, Groenewoudsedijk 10, 3528 BG Utrecht with a participant card or construction card. This is the only way to reach the loading and unloading area at halls 2, 3 and 4 via Route EB.
Waste
Please take all of your waste material with you and do not leave this behind in the aisles. We will charge you for any waste materials left behind.
Contact stand building:
Ada Sauvé
email:
Contact Jaarbeurs
telephone: +31 30 2952999
email:
Work safely
Access policy
You will not be admitted to the Jaarbeurs without a participants card or wristband.