IBTC 2022: about the lectures
With nine keynotes, supplemented by seven roundtables, the International Bicycle Tourism Conference (IBTC) again presented a complete substantive program. What exactly were those keynotes about? Below you can read a summary of the most important points.

Champ Bouwman
Utrecht marketing
Utrecht. A reason to cycle
Project manager Champ Bouwman of Utrecht Marketing took the IBTC-participants along on an inspiration session on Utrecht. The city in the centre of the Netherlands is largely cycling oriented. Each day no less than 100,000 Utrechters take to their bicycles to do their shopping, to travel to work or school, or simply for recreation. This makes bicycles the most commonly used mode of transport in the city centre. You can reach your destination quicker than by car or public transport.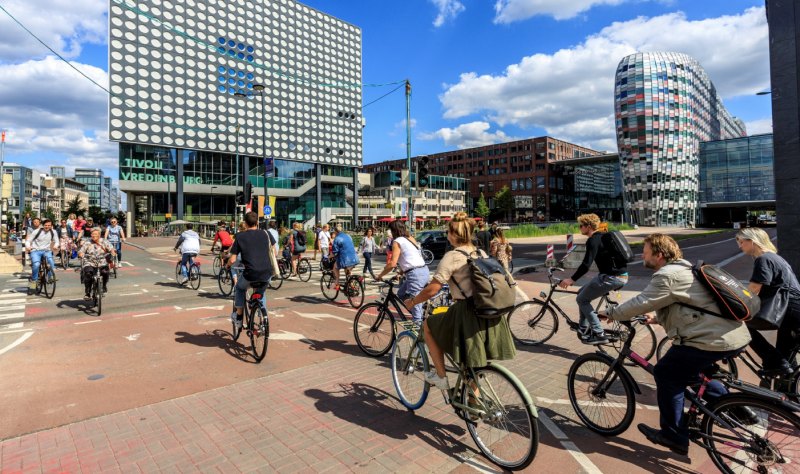 So it is hardly surprising that Utrecht has the busiest cycle paths in the Netherlands and also the world's biggest bicycle park, with 12,500 spaces. Displays showing how many spaces are available along the cycling parking routes through the city, are praiseworthy. As are the two wonderful bridges for cyclists and pedestrians, and the cycling streets, where the cyclists prevail and car drivers are guests, attract attention.

In August 2022 Utrecht will become a start and finishing point for the Vuelta. Which will make it the only city in the world to have hosted the three big cycling events: Tour de France, Giro d'Italia and in a little while, the Vuelta. This upcoming event stimulated the further development of the 'Utrecht Bike City' concept. In the coming years, Utrecht will be inviting tourists to get to know the city by bicycle under the motto 'Experience Utrecht like a local'.

Johan Vanswijgenhoven
Visit Flanders
9 iconic cycle routes
A new framework to promote Flanders as a cycle holiday destination
Flanders is already known internationally as 'home of cycling' for the sporting cyclist thanks to the iconic Flemish road races. Now Flanders wants to use the new iconic cycle route project to reach that status with another target group: holiday cyclists. Thereby responding to the increasing popularity of sustainable tourism and helping ensure that Flanders gets its share of this international growth market.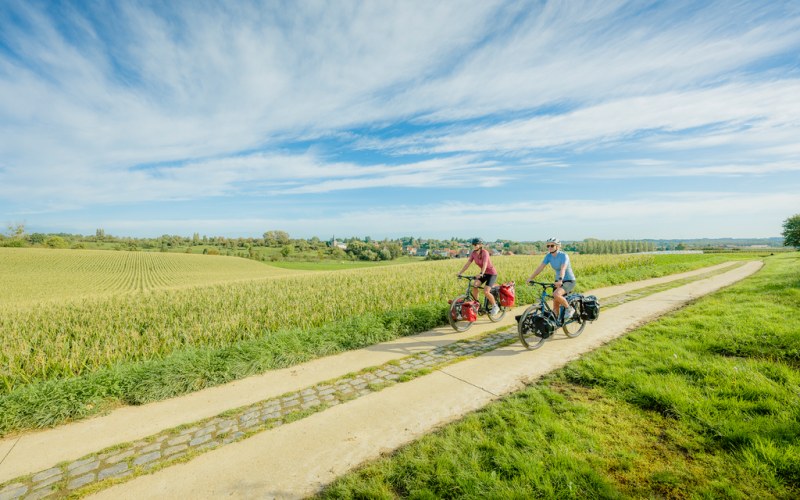 In barely a year's time, nine iconic cycle routes were realised over the existing node points networks. Together these iconic routes are 2,500 km in length. They enable holidaying cyclists from home and abroad to discover the best of the province of Flanders via the thematic routes: the Kunststeden route, Schelde route, Maas route, Groene Gordel route, Kust route, Front route 14-18, Heuvel route, Kempen route and Vlaanderen route. These are all individually signposted and are interlinked.
For the partners in the project, the five provincial tourist organisations and Tourism Flanders, the realisation of the iconic cycle routes is by no means the end of the line. Till 2025, a total of one million euros are available for marketing and further product and business development.
Minister François Bausch & Minister Lex Delles
Government Grand Duchy of Luxembourg
Luxembourg – what it takes to be a successful cycling nation
The Grand Duchy of Luxembourg has big plans for cyclists and cycling. "Luxembourg is not a cycling nation, but we are on the way to becoming one," says the Luxembourg Minister of Mobility and Public Works François Bausch in a combined keynote address with minister of Tourism Lex Delles. During the presentation they sketched out the main elements of Luxembourg's cycling policy, that will put it on the map as a top national and international cycling destination.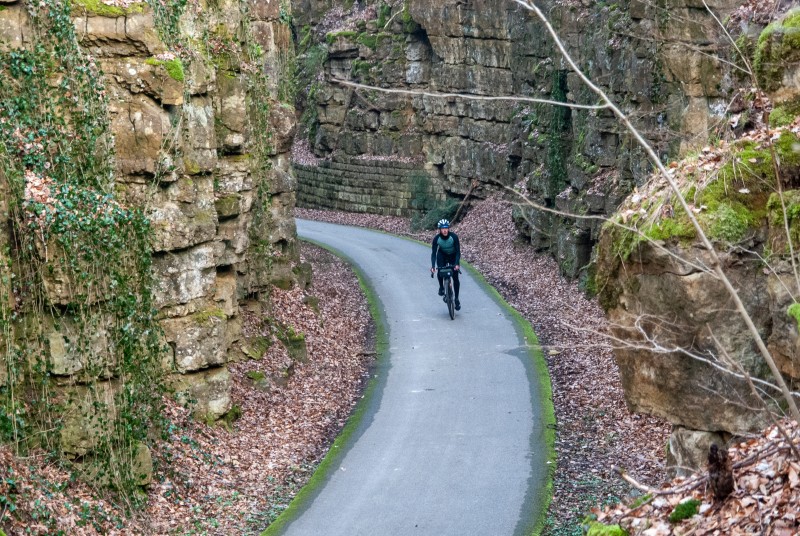 According to the planning, the national cycle path network, the 'Pistes Cyclables' (PC's), will be extended from 650 km to 1,102 km. There will be a bicycle highway between Luxembourg-City and Esch/Alzette, as well as one between Esch/Alzette and Belval. And the national cycle network will also get another link added to it with the connection to the Vennbahn, the popular cycle route from Aachen (D) to Troisvierges (Lux).

Furthermore, the country has already introduced bed+bike badging for bicycle friendly accommodations as well as the luggage transport service MoveWeCarry.lu. This enables cyclists and walkers to forward their luggage at very low rates. Then there is the cycling festival 'Vëlosummer' in August, which attracted about 20,000 Luxembourgers in 2021. Participants were given a choice of 12 routes to explore their country on two wheels. All of these plans and initiatives are indicative of the major investments made by the Luxembourg government to stimulate cycling tourism. (Photo ©FatPigeon)


Herbert Tiemens
Utrecht Council

A slow search for the rapid cycling change in European cities
Covid creates space for cyclists and walkers, as Herbert Tiemens discovered on his long bicycle trip from Utrecht to the Velo-city conference in Lisbon. Because of the lockdowns, more people started cycling and walking and this also led to changes in the infrastructure. In a number of cities he saw new, temporary cycle paths, which now are often of a permanent nature, and more streets closed-off to vehicles, giving walkers more room.
In places including Hoogstraten (B) and Montpellier (FR) he observed School Streets, which can be permanently or temporarily closed to traffic. He was amazed at the temporary parking places for cargo bikes in France, a phenomenon that is completely unknown in Utrecht. And in Paris he discovered a new cycle route network, that follows the Metro above ground. To make things easier for inhabitants who would rather avoid using the Metro because of Covid.

Local groups of cyclists who make their voices heard and are prepared to protest, can certainly help change civic policy, as happened in Montpellier, he concluded. The mayor of that city saw no need to lay cycle paths, 'Because we only have two cyclists here'. In response, 1,500 cyclists assembled on the square in front of the town hall and chanted: 'I am one of the two'. Eventually, the mayor relented and gave the go ahead for the laying of 40 to 50 km of temporary 'Covid cycle paths', which are now gaining a permanent character.


Marco Berends
Danish Cycling Tourism
From routes to networks
A huge project is about to begin in Denmark with the roll-out of a national route network for cyclists, walkers and other outdoor pursuits. This represents a leap for the country from routes to networks, that will enable users to sketch out their own route. There is a pilot route project currently running in four rural areas. The insights gained will be used to ensure a qualitatively superior and future proof network and a methodology that can be applied nationally.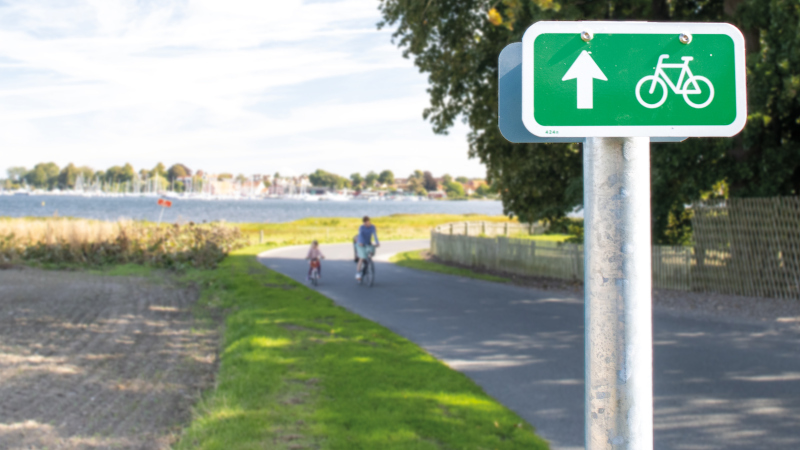 Although the results of the pilot are not yet known, Marco Berends gave the IBTC-public an indication of the early findings. Nature, comfort, safety and good signposting emerged as important points for route users. According to Berends, the design of the signposting must be conceived right at the start of the project, and not left as a final detail that still needs to be agreed. Berends also said that the users' experience of using a network will never be better than the quality of the infrastructure.

The project has also led Berends to a personal insight. "It's not all about adding nodes throughout Denmark, but more about recognising recreationally interesting cycling trajectories, that need to be added to the network. Only once this has been done, should the creation of nodes be considered."


Taneli Roininen, Kristiina Vaano
Finnish Center for Cycle Tourism
The development of bike-packing routes in Finland
Finland is responding to the trend for bike-packing, or adventurous multi-day off-road cycling trips in the great outdoors. With luggage generally strapped to frame, saddle and handlebars. The country seems to be made for this kind of cycling tourism, with countryside and wilderness in abundance, 100,000 km of gravel pathways, and an extensive network of unsurfaced pathways and a well-developed tourism industry, particularly in Lapland.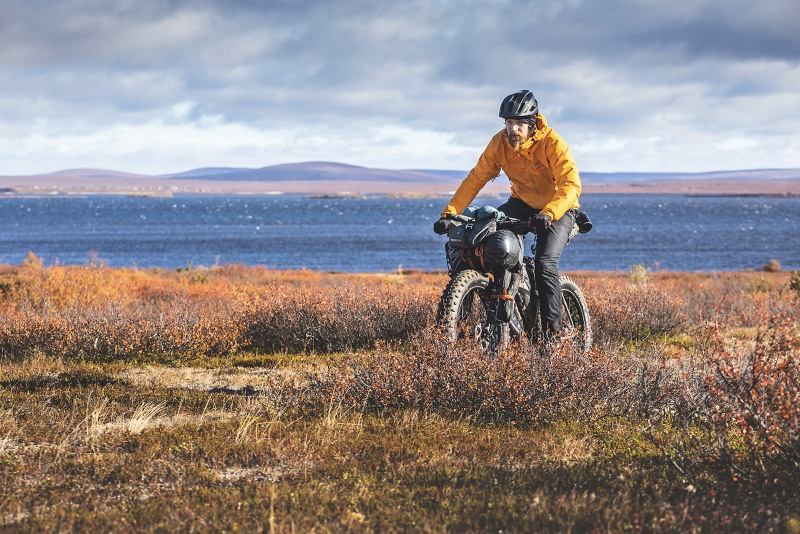 In the meantime, the first trail system totalling 1,100 km in length, has already been realised in the south of the country: South by Cycle. The points at which you can join the trail are easily reached by public transport and direction-finding is 100% digital. In 2023 a second bike-packing project will be ready: the Arctic Bike-packing Trail Projects. This will entail more than 3,000 km of bike-packing trails through the rugged terrain of Lapland.
Taneli Roininen is one of the driving forces behind the brand new bike-packing trails in Finland. He once made a 4-year-long bicycle journey over three continents and found that bike-packing on unhardened tracks and trails in the countryside suited him better than the usual cycling on hard surfaced roads with pannier bags. He managed to convince the government that it was worthwhile investing in bike-packing trails for economic reasons too. The number of bike-packers is growing and various surveys have shown that touring cyclists spend more than other tourists.
Pascal Brackman
RouteYou
Promoting tourism via recreational routes on digital platforms
In his keynote Pascal Brackman dived deeper into world of route platforms like RouteYou, Strava, Route.nl and other services. These publish freely available content – routes, visuals and background information – which are thus free to the end user as well. This is a dramatic change with the situation 15 years back when the user had to pay out money for products like route maps and other content.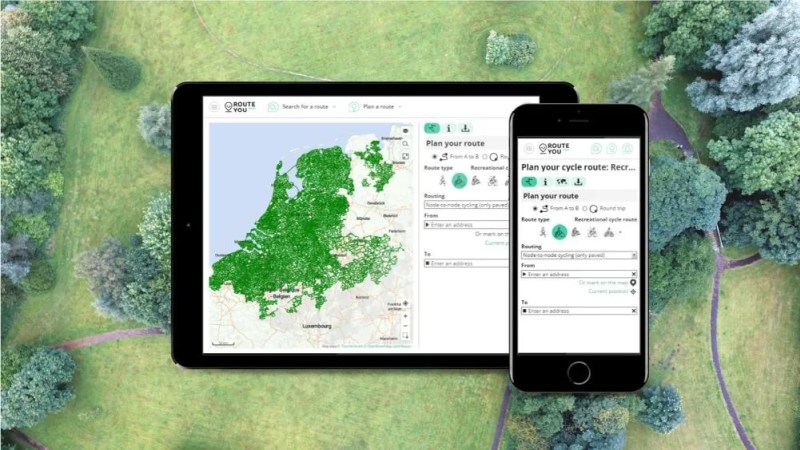 The direct earning model for tourism become an indirect earning model by this change. The freely available routes bring the users to branches of the hospitality industry in a tourist region such as cafes or accommodation, who in turn earn from this. The advantage of the route platforms in the promotion of routes is clear: they reach a wider audience thereby providing important complementary promotion.

According to Brackman, bicycle routes are very suitable for spreading tourism more evenly over a region and reflect the trend towards sustainable tourism. They have a high capacity so they can handle a large number of tourists, without giving rise to long queues or traffic jams. They can also be laid out quickly and relatively cheaply and are easy to change. Routes can be brought effectively to the attention of consumers via 'sticky memes', visuals or stories that stick in their memories'. There will be a few 'sticky memes' to be found in every region, which can be associated relatively easily with a bicycle route.

A further step in the promotion of routes, is for these to be published on all relevant route platforms. RouteYou, in co-operation with NodeMapp, has developed the so-called RouteSynchronizer, which makes this possible without the need to re-enter the content again for each platform.

Ed Lancaster
European Cyclists' Federation (ECF)

Cyclists love trains
Challenges and opportunities for combining bicycles and trains in Europe
Cyclists and trains have had a difficult marriage for years. Cyclists definitely love trains, but with some train companies the love is not mutual. In July 2021 the ECF published the report 'Cyclists love trains: An analysis of the bicycle friendliness of European railway operators'. The report assesses 69 railway companies on six indicators: spaces for bikes, bicycle hire, bicycle ticket prices, ticket sales channels, multi lingualism and functionality of the website.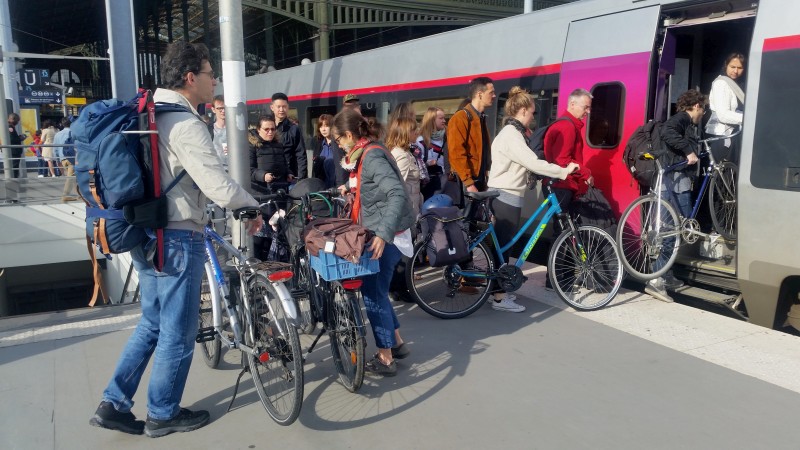 A large number of train companies did absolutely nothing or very little about transporting bicycles: 22% did not accept any bikes at all and 17% only scored two points in this survey. Despite this, ECF EuroVelo-directeur Ed Lancaster did see some bright spots. Guidelines have been introduced in France that trains should have a minimum of eight bicycle places, with six-eight bicycle places recommended in TGV-M-trains. The strategy of the Belgian railway companies has become more bicycle friendly: there will definitely be eight places for bicycles in all new or refurbished trains.

Lancaster noticed that the attitude of railway companies is beginning to change. They are more positive about transporting bicycles in trains and are more open to the demands of the cycling lobby. He made an appeal to cyclists: "Take your bicycle with you on the train and demonstrate that there is a real and urgent need for this facility. That will stimulate companies to take more bicycle friendly arrangements".
Minister José Luis Soro Domingo
Regional government Aragón, Spain
The Aragonese Cycling Strategy, rolling towards sustainable development
The government of Aragón created the Aragonese Cycling Strategy, a comprehensive plan over a period of 7 years to promote use of bicycles and to use this for the economic development of depopulated regions. The list of plans and proposed measures comprises no fewer than 25 strategies and 114 action points. Public health, job opportunities, economic developments, innovation, tourism, sport, education: this strategy will have to play a role in all these areas. The project has a budget of 15 million euro.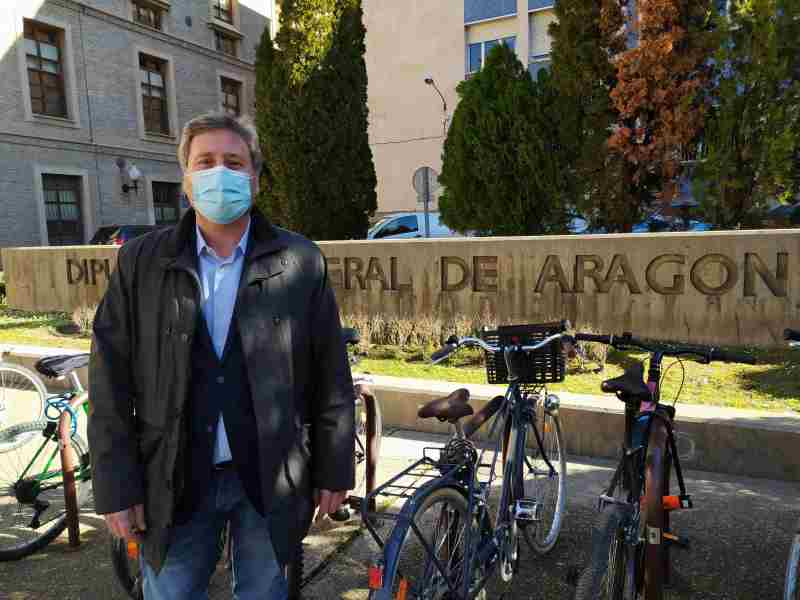 Minister of Territorial Structuring, Mobility and Public Housing Soro zoomed in on two concrete projects. There will be a new bicycle link between the Val de Zafán and Ojos Negros, the two 'Vias Verdes' ('green roads', often paths over old railway lines) which criss-cross Aragón. The connecting route comprises 160 km and has a connection towards the EuroVelo 8.

A second project is a circular tourist route on both sides of the French and Spanish Pyrenees. This has connections to Toulouse in France and Zaragosa in Spain. The plan is for this 'Round the Pyrenees' route to be adopted in a new EuroVelo-route from Toulouse to Huesca, Zaragosa and further on to Lisbon.