Free exhibition space for an activity
Do you know an exciting, beautiful, playful or otherwise engaging activity that you think, the Fiets en Wandelbeurs makes more an experience? We will provide you with the exhibition space free of charge to realize this idea..
Nowadays the public expects that a fair should be more than just a collection of stands. It should be more and more an experience. We would like you to involve, as you as an exhibitor, know our customers better than anyone.
What you can think about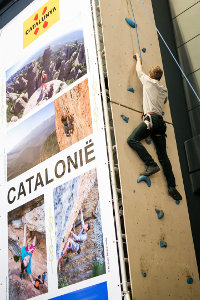 Some examples:
Activities
workshop
climbing wall
canoe pond
slackline walking
test track cycling agility
walking on stilts
Cultural
exhibition of local architecture or painting
music on traditional instruments
Experience
cycling experience with screen
walking on a conveyor-belt
Workshop
cooking on the road
shoe repairs underway
hygiene on the go
Culinary
tasting of local products
Interest?
Mail your details and a description of the activity to . Please also along with footage of the activity.

Rules
The activity should appeal the 'Fiets en Wandelbeurs' public.
The activity should not be an integral part of your own stand, it must be recognized as a separate component. There should be a connection between the activity and your own business activities but the activity may not increase its surface to provide its products.
The visibility of your company is on sponsor level. The extent of the entries as a sponsor, for example by using your company name or logo, must be in proportion to the actual performance. At the discretion of the Fiets en Wandelbeurs.
There is no automatic approval if the conditions above are met. In order to encourage the quality and to avoid double activities, we assess each application separately.
We provide the surface free of charge. The arrangement is to your account. There is no standard limitation on the maximum amount of free square meters.
Prior to notification, you should have registered as an exhibitor to the fair where you want to organize the activity.
We provide publicity for the activity through our websites, press releases and social media.