Uniform stand construction

Characteristics of a uniform stand:

we build the stand for you

stands are 3 metres deep; the length is 3 metres or more

system walls of 100 cm wide and 250 cm high (exact wall dimensions see below)

light grey in colour

carpet tiles in colour of choice, standard = red

white frieze frame with black lettering a maximum of 20 characters

display of company name and stand number in Helvetica corps 7.5 cm. high, maximum 20 characters

set of spotlights per 3 m² giving plenty of light

energy consumption of spotlights included

corner stands are open on two sides

surface area, furniture, counter and your own electric socket are not included in the price
Dimensions system walls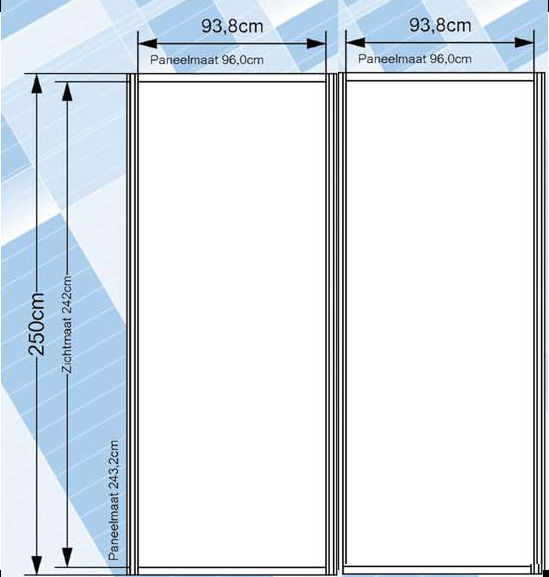 Possibilities for decoration
You can use double-sided tape, adhesive tape and the like to attach posters and other decorations to the system walls. Afterwards you should remove the tape and any other materials so that the walls are left clean.

It is absolutely forbidden to use nails, thumbtacks, etc. on the walls, damage to the walls will be charged.
Corner stand
The number of corner stands is limited. In case of registration after November 15th we can not guarantee it anymore.
Extras
You can order additional facilities via 'My events', for example:
storage cupboard or pantry of 1 m² with lockable door and placed in a corner. Additional costs are charged for every extra square meter and for placement against a straight wall
second frieze text, maximum 20 characters (only head and corner stands, stand number excluded), total costs € 60.00
extra characters frieze text on top of the first 20 characters for the first or second frieze text: costs € 3.00 per character
your own logo on the frieze frame
other wall colors for the system walls
Cleaning
Completion cleaning is included in the price. If you want to order extra cleaning, you can do so via the webshop of the Jaarbeurs.

There are too many other options available to list them all here. If you have any questions or wishes, please contact us.