Construction and dismantling in Flanders Expo
Construction
Building your own stand
You can start with construction and fitting out of your stand on Thursday from 12:00 hrs to 23:00 hrs and on Friday from 08:00 hrs to 23:00 hrs.
Standard stand construction
You can start with fitting out your stand on Friday before the fair from 12:00 hrs.
General
Saturday from 8:00 am before the fair opens, you are welcome to finish your stand.
soot filters are mandatory for diesel engined vehicles
smoking is strictly prohibited in the halls.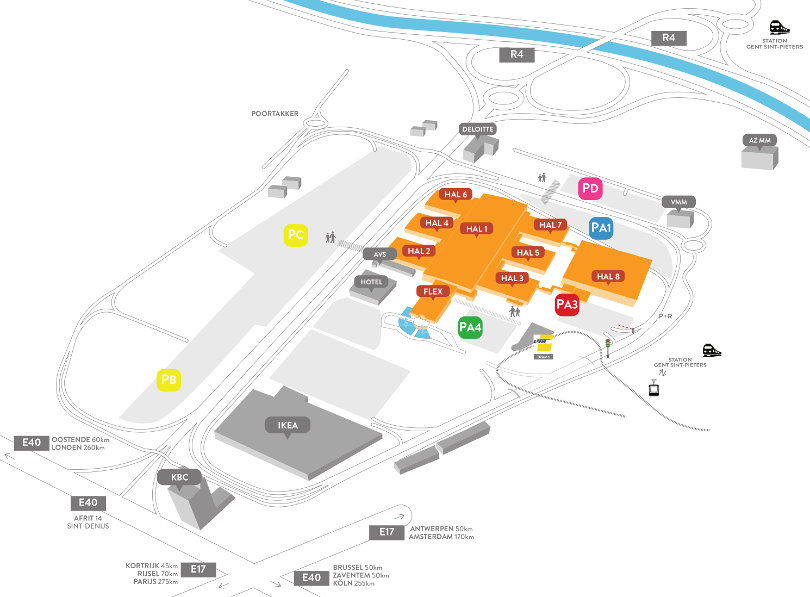 youtube easywayfinder en
Address
Maaltekouter 1
BE-9051 Gent
Delivery of goods
Delivery of goods on behalf of exhibitors is only possible from Thursday before the start of the fair.

Address:
Flanders Expo
attn. E-Bike Challenge
name exhibitor, contact person and telephone number
Hall en stand number exhibitor
Maaltekouter 1
B-9051 Gent
Belgium
Do you want to deliver goods before this time, please contact:
Schenker NV Fairs & Exhibitions
Vliegveld 756
1820 Steenokkerzeel / Brussels Airport
Belgium
Tel: +32 2.716.37.86
Fax: +32 2 716 38 50

www.dbschenker.com/be
Access
Report at the entrance with your participant ticket. Instantly after arrival you've got these to exchange for wristbands in the organization room. The wristbands gives you access to Flanders Expo throughout the whole exhibition period.
No vehicles will be admitted to the hall on Friday, the hall doors are closed. Please transport at that day goods with a trolley or hand truck.
Access for stand builders
Stand building tickets are necessary for employees and stand builders that are present only during construction and / or dismantling.
Valid:
Thursday and Friday before the fair, the whole day
Sunday after the fair from 5 pm.
You can download stand building tickets from 'My events'. There you can enter the desired amount and download them.
Parking
Parking of cars and vans can be in two places:
city parking lot Parking B, accessible via exit 7. Costs € 6.00 per day. On the spot to deal with the machine
parking lot Parking A3, accessible via exit 5. Costs € 18.00 for both days. Unlimited in and out is possible. Parking tickets for this you can order after log in to 'My events'.
Parking of trucks:
along Noorderlaan or Zuiderlaan (along the water sport track)
along the E40 direction Oostende, parking Texaco petrol station Keuzekouter 21. Use the parking south side, direction Ghent / Brussels.
Dismantling
Taking down the stand starts on Sunday at 17:00 hrs after the closing of the Fair. You are requested not to start the clearing of the stand any earlier. The electricity will be cut off at 17:00 hrs sharp. The hall doors will be opened after the carped has been removed, at ca. 17:30.
Stand holders with standard stand construction
The stand must be cleared by 20:00 hrs on Sunday
Stand holders constructing their own stand
You should start taking down your stand before 21:00 hrs. If you have not started taking down the stand by 21:00 hrs, the organisers of the Fair will do it and you will be charged the costs.
The hall must be empty on Monday morning at 02:00 hrs.
Waste
Please take your own waste with you and do not leave it behind on your spot. You will be charged for the cost of removal of any waste you leave behind.
Contact stand building:
Nick Roodenburg
email:
Contact Flanders Expo
telephone: +32 (0)9 241 92 11
e-mail:
Work safely
Access policy
While you are present you may be asked at any time to show your wristband, so you should wear it at all times.
Protective footwear
During the construction period before the fair, the wearing of approved safety shoes is mandatory.