A standard stand at Mount Expo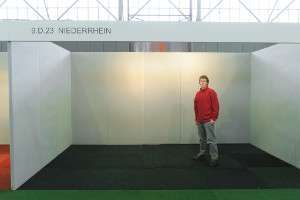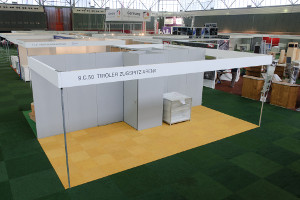 Characteristics of a standard stand:
we build the stand for you
stands are 3 metres deep; the length is 3 metres or more
fabric covered wooden walls 5 cm thick, 100 cm wide and 250 cm high
light grey in colour
carpet tiles in colour of choice, standard = red
white frieze frame with black lettering a maximum of 20 characters
display of company name and stand number in Helvetica corps 7.5 cm. high, maximum 20 characters
set of spotlights per 3 m² giving plenty of light
energy consumption of spotlights included
corner stands are open on two sides
surface area, furniture, counter and your own electric socket are

not

included in the price
Possibilities
You may use thumb tacks and thin nails to fix things to the wooden wall. Small nails may be used to hang things like picture wire from the top edge. No screws are allowed. All nails, tacks, sticky tape and other materials must be removed at the end of the exhibition and the walls left clean.
Corner stand
The number of corner stands is limited. In case of registration after november 15th we can not guarantee it anymore.
Extras
You can order supplementary provisions after login to 'My events', for example:
corner storage cupboard or pantry of 1 m² with lockable grey door
second frieze text (maximum 20 characters)
extra characters frieze text
your own logo on the frieze frame
different wall colours.
There are too many other options available to list them all here. If you have any questions or wishes, please contact us.