Uniform stand construction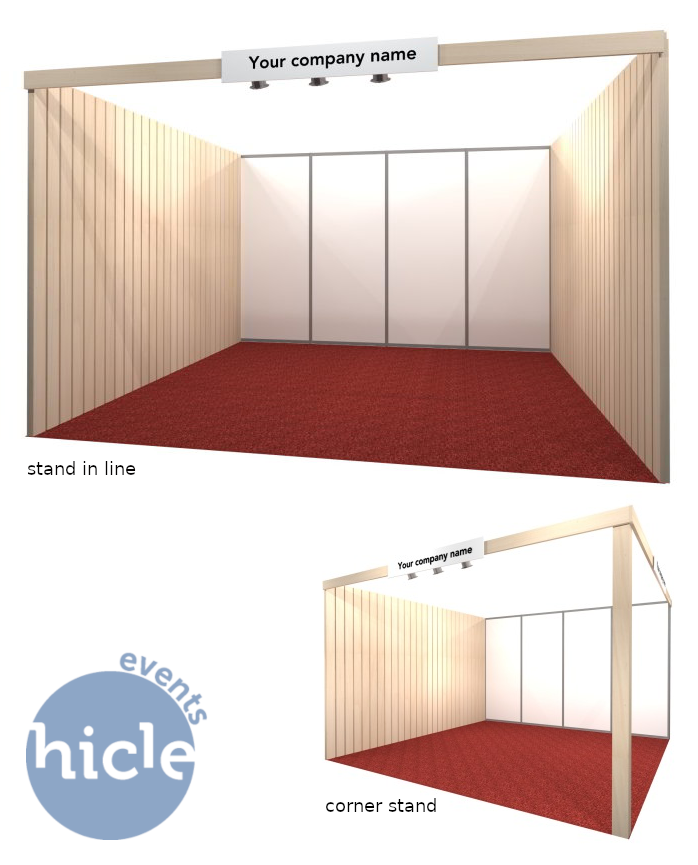 Characteristics of a uniform stand with wooden construction:
we build the stand for you
the stand is 3 meters deep, the length is 3 meters or more
carpet tiles, color of your choice. The default color is red
side walls in 'spruce' panels, combined with modular rear walls (white is standard)
wooden frieze molding nameplate 150 cm length x 25 cm height
mention of company name and stand number in Helvetica font 7.5 cm high, maximum 20 characters
one spot per 4 m² with sufficient light output
power consumption of the spots
corner stands are equipped with two open sides
corner stands are at least 3x3 meters
floor space, furniture, desk and private power connection are not included in the price.
Uniform stand: possibilities for decoration
You can attach thumbtacks and thin nails for decorative materials on the wooden walls. Small nails may be used on the top edge, for example to secure hanging wires. Screws are not allowed. You can use double-sided tape, adhesive tape, etc. on the walls. Afterwards, you must leave the walls clean. Please remove nails, tape and other materials.
Cleaning
Completion cleaning is included in the price. If you want to order extra cleaning, you can do so via 'My events'.
Corner stand
The number of corner stands is limited. If you register after November 15, we can no longer guarantee it.
Extras
You can order additional facilities via 'My events', for example:
storage cupboard or pantry of 1 m² with lockable door and placed in a corner. Additional costs are charged for every extra square meter and for placement against a straight wall
second frieze text, maximum 20 characters (only head and corner stands, stand number excluded), total costs € 44.30
extra characters frieze text on top of the first 20 characters for the first or second frieze text: costs € 3.00 per character
your own logo on the frieze frame
other wall colors for the system walls
There are many more possibilities that we cannot all list here. If you have any questions or wishes, please contact us.