Build your own stand
The recognisability of your company is paramount. What could be better than taking care of a stand yourself? If you build your own stand you only pay for the surface area plus the costs of any extra provisions you may wish to order such as carpet, electricity or rigging. The minimum uptake for a stand near the test track without demo bicycles is 9 m2, for a stand along the test track with demo bicycles 15 m2.
minimum uptake island stand: 6x6 meter (near test track)
minimum uptake peninsula stand: 3x6 meter (near test track)
minimum uptake corner stand: 3x3 meter (near test track)
Stand space along test track
A pop-up tent with carpet will do as stand construction. At least one side of your stand borders the test track, so please ensure you reserve some space in your stand to distribute your test bicycles. To serve the open character of the event, we advise you to keep all sides of your stand open to the public.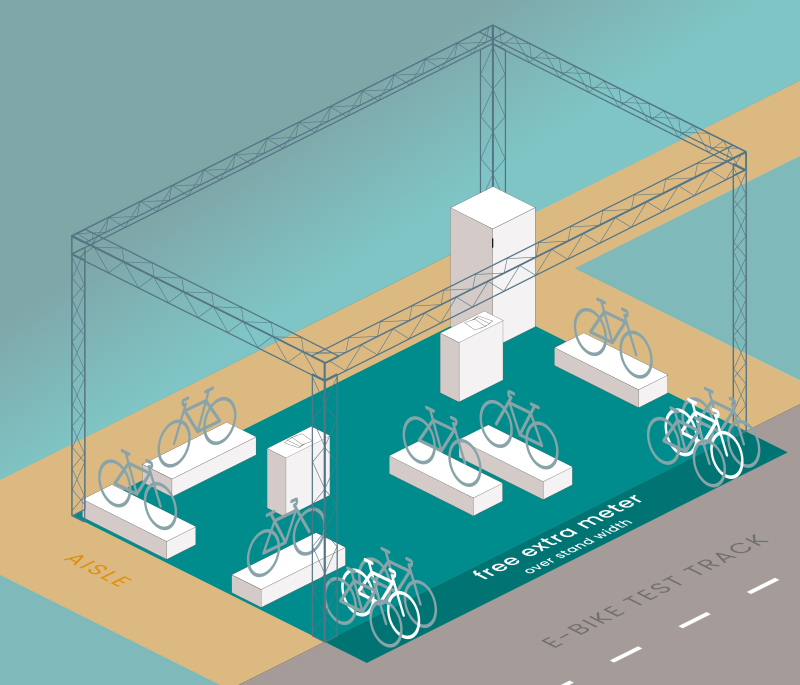 You will receive 1 meter over the entire width of your stand for free. You can use this space on the course to hand out your bicycles. Above is an illustrative representation of the situation. The drawn truss is just an example of possible stand construction along the course.

If you do not have your own stand, our stand builder would be glad to make a customized stand design.
Stand design
Please submit your stand design to us before December 1st.
Extra's
Goods such as carpets, electricity or rigging you can order via 'My events'.
Building height stands
Hall 1:
No more than 8.00 meters, except for the 'no rigging zones' indicated on the floor plan.